The Pale Horse is a two part Agatha Christie drama set in the 60's for the BBC, adapted by Sarah Phelps. We've worked closely with Mammoth Screen to produce over 130 VFX shots, from simple removal of modern TV aerials and sky replacements, to more complex fire simulations and set extensions.

Getting involved from an early stage of this project was really beneficial, allowing us to discuss ideas and solutions with the Director and Producer. We attended tech-recces, pre-production meetings to help design shots and ensure that everything was planned correctly. We attended shoots regularly to ensure everything we needed was captured, including reference material and general photography for textures etc.

There was a lot to get done, and little time to complete it, so the more complex shots were pre-planned and much of the design work signed off before we started. We had a great team working from our Regional Studio in Norfolk, with all client reviews taking place from our Soho based studio. Delivery was UHD/HDR which meant processing time and additional attention to detail was required, too.
Let's break a couple of shots down here:

Easterbrooks Shop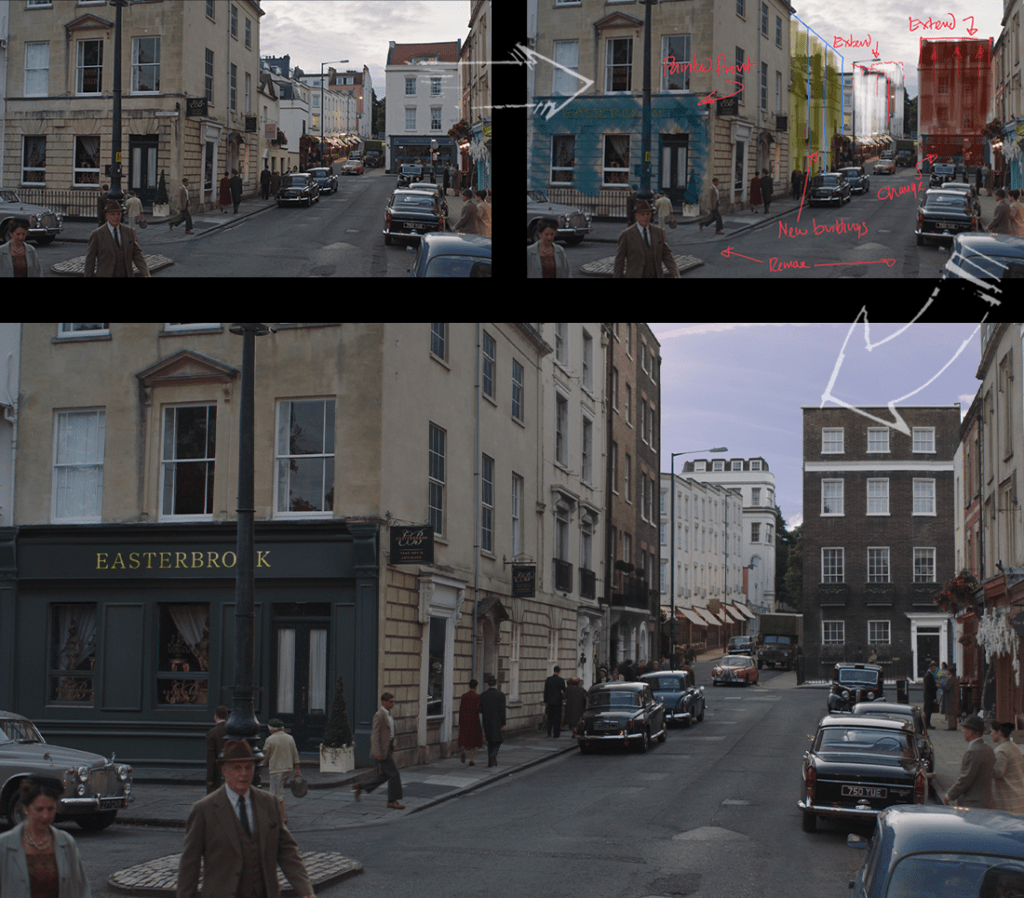 This was shot in Bristol, but was made to look like London. We used Mayfair as reference for this, wanting to give the area an affluent feel and to add scale. Reference photographs were used to build up a DMP, extending the buildings up, changing textures, and adding a painted front with cournasing, along with a new sign to the shop. The comp team added texture to the existing stonework, replaced the sky and removed modern signage etc. Then of course, all those people wandering around had to be roto'd back over the new plate.
Soho Night Scene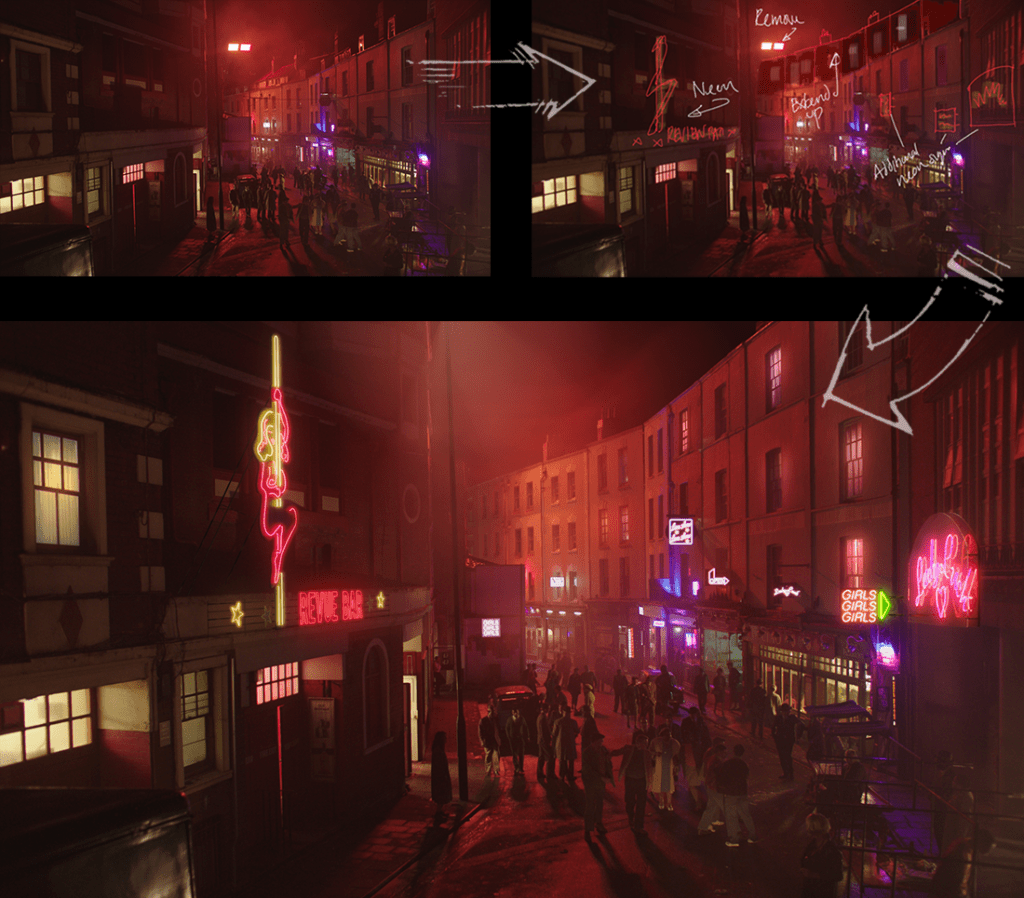 Again, this was shot in Bristol, but made to look like the iconic Soho area in London, back in the late 60's. The main challenge here was to add scale to the street and populate it with additional neon signage and general atmosphere. The original plate looks quite residential and quaint, which is not what we wanted.

Reference photos of London from the 60's were sought and neon signs created in CG to give us complete control of how they looked and where they cast light. We also organised an element shoot to capture real neon for reference of how it casts light and the subtleties of how the glass tubes are bent and held on frames. This shot is moving so it was camera-tracked to allow the CG team to match the move to their models. The main set of buildings on the right hand side have been extended up by one floor to add scale. Some of the windows are now lit too, which adds a little 'red light district' feel. The street was lit by two panels held high on a crane. These had to be removed and the misty atmosphere matched to the shot. 
The Aging Mirror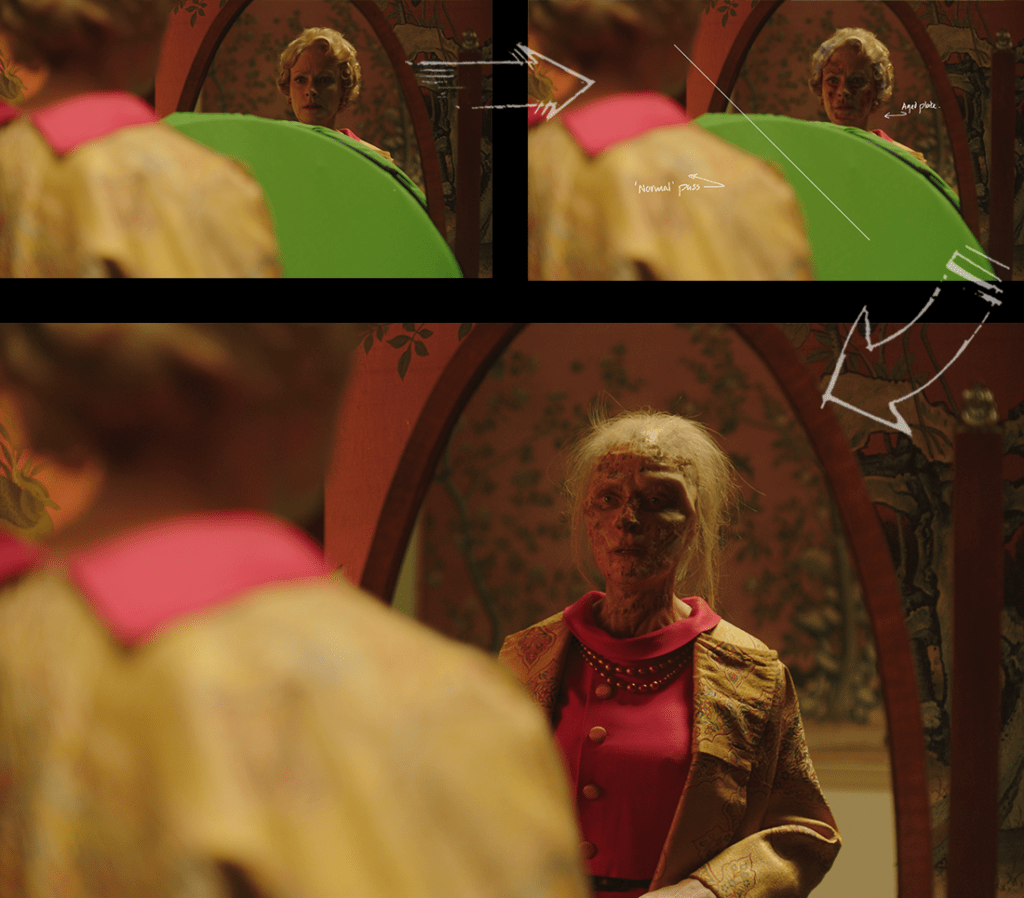 Part of the script requires the reflection of Yvonne Tuckerton to have aged and become ill when she looks in the mirror. We discussed solving this with either prosthetics, vfx, or a combination of both. We decided on the combined approach with the prosthetics giving us a good starting point. This was shot as three plates; the 'normal' look, the 'aged look', and a clean plate. We used a combination of procedural elements and textures tracked on to the face, all within Fusion. The CG team created some fine, white hair which was added to help cover the prosthetic underneath. The two plates were combined utilising a the green-screen to separate them and retimed so the movement of the two passes matched.